August 15, 2003
July 20,2003
July 18, 2003
July 2, 2003
June 24,2003
June 14,2003
May 30, 2003
May 20, 2003
May 15, 2003
May 8,2003
May 5, 2003
May 2,2003
April 29, 2003
Easter Sunday
April 16, 2003
April 9, 2003
April 2, 2003
March 28, 2003
March 24,2003
March 20, 2003
March 15, 2002
Saint Patrick's Day
March 13, 2003......Happy 5oth Birthday Ed!!!!
March 7,2003
March 4, 2003
February 19, 2003
Valentine's Day 2003
February 9,2002
February 6, 2003
February 2,2003
January 27,2003
January 20, 2003
January 15, 2003
January 11,2003
Jabuary 7, 2003
January 3, 2002
Happy New Year!
December 28,2002
Christmas Day
December 23,2002
December 18,2002
December 16, 2002
December 13,2002
December 6, 2002
December 4,2002
Thanksgiving Day
Nov 26, 2002
November 24,2002
November 21, 2002
November 20, 2002
November 17, 2002
November 15,2002
November 13, 2002
Nov 5, 2002
HAppy Halloween!
October 29,2002
October 28,2002
October 23,2002
October 20, 2002
October 16,2002
October 11, 2002
Contact Me

Ed's fiftieth..a night on the town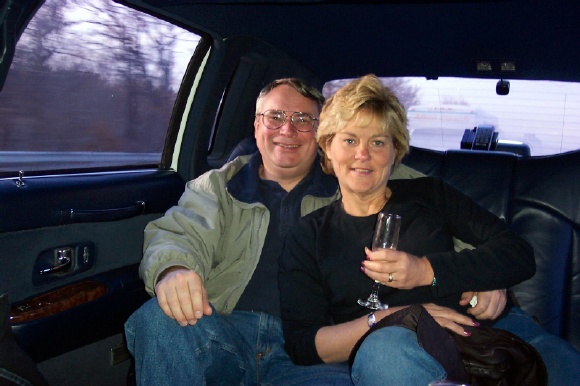 Ed turned fifty the other day, but today was his surprise celebration. I thought for a long time about how to celebrate this milestone event. Unlike me, Ed really doesn't like being the center of attention..he shies away from that. So instead of giving him a big fiftieth Birthday Bash..I opted for an alternative plan.
We did not grow up in New Hampshire, before we were married we used to live south of Boston and hung out in different places in Brockton, Mass.
One of these places, "Cape Cod Cafe" is my husband's favorite place to go... out of all the restaurants worldwide, he will tell anyone this place is his favorite, even though it is a bit of a dive. He will tell you it has the best beer and pizza in the world. So I knew this is where we needed to celebrate( we even had our engagement party there, lol).
Next I decided there was only one way to get there...by limousine... so I ordered a limo, called some old friends( approx 20) and Saturday night was coming together.
Our kids, John , Becky (John's girlfriend)Kara, Ed and a good friend of ours Nannie all got into the limo and off we went to Brockton, Mass...Sipping champagne along the way.
When we arrived there we were greeted by a roomful of long time friends...We ate, drank, laughed and chatted..the night flew by....it was a great time..we piled back into the limo and back to New Hampshire.. The look in Ed's eyes and his, "You couldn't have found a better way to celebrate my birtthday." made the whole night even more special.
Life is good and I am blessed.