October 10,2002 | Happy Birthday Kara!! October 8,2002 | October 7,2002 | October 5, 2002 | October 2,2002 | September 30, 2002 | September 30, 2002 | September 27, 2002 | September 22,2002 | September 20, 2002 | September 18, 2002 | September 16,2002 | September 14, 2002 | September12,2002 | September 11, 2002 | Sept 10, 2002 | Sept 7,2002 | September 5,2002 | September 2, 2002 | August 30, 2002 | August 26,2002 | August 25,2002 | August 20,2002 | August 14 ,2002 | August 13,2002 | August 12,2002 | August 11,2002 | August 10,2002 | August 2,2002 | July 30, 2002 | July 27,2002 | July 22,2002 | July 19,2002 | July 16,2002 | July 16,2002 | July 15,2002 | July 11,2002 | July 10,2002 | July 9,2002 | July 6,2002 | July 3, 2002 | June 29,2002 | June 20,2002 ..36 Weeks Today | June 19, 2002 | Father's Day | June 14,2002 | June 12,2002 | June11,2002 | June 5,2002 | June4, 2002 | June3,2002 | June 2,2002 | June 1,2002 | May31,2002 | May 28,2002 | May 20, 2002 LEAVING FOR GLOBAL FINALS | May 18,2002 | Mother's Day...May12,2002 | May 6, 2002 | May 4,2002 | May 1, 2002 | April 30, 2002 | April 28, 2002 | April 27,2002 | April26,2002 | April 24, 2002 | April 19,2002 | April 18, 2002 | April 14, 2002 | April 12, 2002 | April 11, 2002...Sixth Month Anniversary | April10,2002 | April 9, 2002 | April 8,2002 | April 6,2002 | April 5, 2002 | April 3, 2002 | Daily Log Page for 3/31 | April Fool's Day | Postings List
Annie's Online Journal...2
June11,2002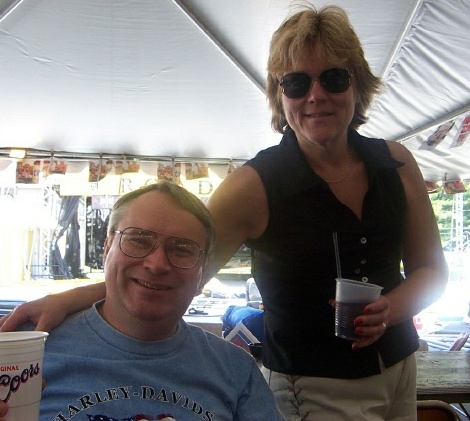 Ed and I at bikers weekend

This year has flown, I have one more week before I am out of school for the summer. I can't wait. Planning is everything. Right now I am looking into a gym that would be near the lakehouse. I think I will investigate "curves for women" for the summer. Once I have gone and checked it out, I will write about it. I am allowed to put my health club on hold here at home for the summer if I so choose,but I am thinking I will keep it active so that no matter where I am over the summer there will be no excuse not to have gone to the gym. Talk about being possessed!!
The weight loss has definately decreased over the last month and I can honestly say that it is due to my lifestyle and how busy we have been. Although I have not lost at the rate I had wished to, I am still heading in the right direction. Between, the trips..graduation, North Carolina, Tennessee and special events I guess I should be happy not to have gained.
The past weekend we were at the lakehouse and I am finding it much more difficult to stay on plan there. Environment and past experiences really do play a game with one's mind. My fat brain thinks it is on vacation when I am there which means I think I should be able to eat and drink anything I want. It has taken a lot of self convincing not to stray. I keep reminding myself that the first phase of this journey is almost completed, and that I have every intention of walking over that finish line!!
Our lakehouse is near Weirs Beach which holds the annual "bikers weekend" each June. Bikers come from all over the country and it is quite an event. Normally I stay far away from the crowd, but Saturday we decided to go and check it out. It was much less wild than I thought( then again it was Saturday morning). I did find a bathing suit that I liked( two piece) I didn't try it on, but went ahead and bought it. My hubby and I are going to Belize in February as a gift to ourselves for our 25th anniversary(which is in August). I have NEVER worn a two piece and thought that I would buy it for that occassion. When we got back to the lakehouse he talked me into trying it on. Boy did we laugh.. not only was it a two piece....but it was see through...Guessing the only place he is going to view that suit is in the bedroom in Belize....He smiled all weekend..
Have a great one. I posted a pic my son took of us in the beer tent at the event. Don't worry that is a diet coke in my hands!