October 10,2002 | Happy Birthday Kara!! October 8,2002 | October 7,2002 | October 5, 2002 | October 2,2002 | September 30, 2002 | September 30, 2002 | September 27, 2002 | September 22,2002 | September 20, 2002 | September 18, 2002 | September 16,2002 | September 14, 2002 | September12,2002 | September 11, 2002 | Sept 10, 2002 | Sept 7,2002 | September 5,2002 | September 2, 2002 | August 30, 2002 | August 26,2002 | August 25,2002 | August 20,2002 | August 14 ,2002 | August 13,2002 | August 12,2002 | August 11,2002 | August 10,2002 | August 2,2002 | July 30, 2002 | July 27,2002 | July 22,2002 | July 19,2002 | July 16,2002 | July 16,2002 | July 15,2002 | July 11,2002 | July 10,2002 | July 9,2002 | July 6,2002 | July 3, 2002 | June 29,2002 | June 20,2002 ..36 Weeks Today | June 19, 2002 | Father's Day | June 14,2002 | June 12,2002 | June11,2002 | June 5,2002 | June4, 2002 | June3,2002 | June 2,2002 | June 1,2002 | May31,2002 | May 28,2002 | May 20, 2002 LEAVING FOR GLOBAL FINALS | May 18,2002 | Mother's Day...May12,2002 | May 6, 2002 | May 4,2002 | May 1, 2002 | April 30, 2002 | April 28, 2002 | April 27,2002 | April26,2002 | April 24, 2002 | April 19,2002 | April 18, 2002 | April 14, 2002 | April 12, 2002 | April 11, 2002...Sixth Month Anniversary | April10,2002 | April 9, 2002 | April 8,2002 | April 6,2002 | April 5, 2002 | April 3, 2002 | Daily Log Page for 3/31 | April Fool's Day | Postings List
Annie's Online Journal...2
September 22,2002


As we express our gratitude, we must never forget that the highest appreciation is not to utter words, but to live by them.
--John Fitzgerald Kennedy

Group Picture the day of the shoot!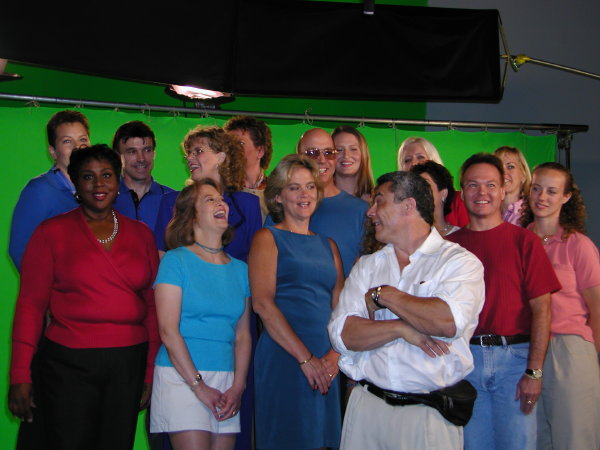 Today words alone do not seem to be enough.. How do I thank so many for helping me obtain my dream? I am home from LA and the last four days were just AWESOME!!!! How fortunate I am to have met sooo many incredibly inspiring people.
There was Allison and Dolores..always running around, finding people, driving picking up..being the supporters...making everyone comfortable ...always always smiling.
Jeff and Brady could make someone feel comfortable with a train coming right at them.
Matt and Paul have patience of the saints.
I am still not sure how Karen brought it all together so nicely!
Everyone from makeup to in the hotspot were simply wonderful.
Michael...You are a sweety..and very easy to talk to..
I had the best of times and will treasure it all for the rest of my life!
Now for the "losers" I had the privilege of meeting....my life will never be the same.. Each and everyone of you, have inspired me to continue to work towards my dream...Not only did you all LOOK wonderful...the inner you matched. I will be putting a page together with pics that were taken here and there during my stay in LA!
Have a great one all!!!!
Allison, me and Dolores...friends forever!
Without the support from these two specialists....my dream would not have happened!