August 15, 2003
July 20,2003
July 18, 2003
July 2, 2003
June 24,2003
June 14,2003
May 30, 2003
May 20, 2003
May 15, 2003
May 8,2003
May 5, 2003
May 2,2003
April 29, 2003
Easter Sunday
April 16, 2003
April 9, 2003
April 2, 2003
March 28, 2003
March 24,2003
March 20, 2003
March 15, 2002
Saint Patrick's Day
March 13, 2003......Happy 5oth Birthday Ed!!!!
March 7,2003
March 4, 2003
February 19, 2003
Valentine's Day 2003
February 9,2002
February 6, 2003
February 2,2003
January 27,2003
January 20, 2003
January 15, 2003
January 11,2003
Jabuary 7, 2003
January 3, 2002
Happy New Year!
December 28,2002
Christmas Day
December 23,2002
December 18,2002
December 16, 2002
December 13,2002
December 6, 2002
December 4,2002
Thanksgiving Day
Nov 26, 2002
November 24,2002
November 21, 2002
November 20, 2002
November 17, 2002
November 15,2002
November 13, 2002
Nov 5, 2002
HAppy Halloween!
October 29,2002
October 28,2002
October 23,2002
October 20, 2002
October 16,2002
October 11, 2002
Contact Me


Every year Ed decides that we should do something with the family that is cultural during the holiday season. This year he thought we might like to do a candlelight stroll of Strawbery Banke, which is a museum of historical houses that are adorned in holiday finery to reflect their historic period. Strawbery Banke is located on the seacost in Portsmouth, New Hampshire and has about fifteen houses to look through.
On most evenings during the holiday season, this is a wonderful way to celebrate with family. A leisure stroll through out the small community of years gone by, all lighted by candles.. There is a cider barn with hot apple cider and a sing along, a bonfire, horsedrawn carriage rides... Saturday night, there was a little bit of a hitch...there were torrential downpours..but did that stop my family? Heck no...umbrellas in hand with my husband assuring us that the rain would stop...we went on Our candlelight stroll( the candles lasted about fifteen minutes), mud and puddles everywhere...the houses were indeed beautiful inside and out..
Our group was Ed and myself, Kara, John and his girlfriend, Becky. The kids were great sports..the weather horrific.. By the end of our adventure we were looking like drowned rats...We went to the ciderbarn, and even I had hot piping cider... My woolen coat was soaked through..there wasn't a dry one among us...we threw in the umbrella's about two hours into the ordeal and decided to leave and go to dinner. We arrived at the restaurant, looking rather like wet noodles...but were our spirits dampened? Decide for your self...below a pic taken by the waiter,as we were settling in for dinner..
It really is all about time spent with family, don't you think?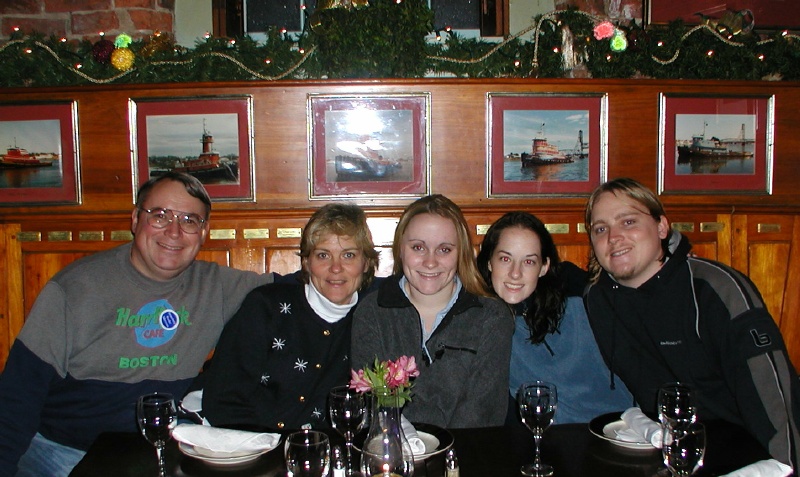 Ed, Annie, Kara,Becky and John